International Energy

Conservation Code - IECC

This code began in 2009.

It is now being enforced!

On Page 31 it requires

All electrical boxes

on exterior walls

must be air tight!

Most states have adopted this code!!
US Patent No 6,874,295 Granted April 5th, 2005 • Canadian Patent No 2,421,472 Granted January 10th, 2012
Installation Procedure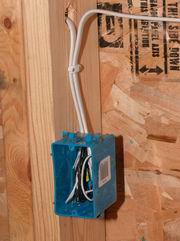 1
Typical stud wall with electrical box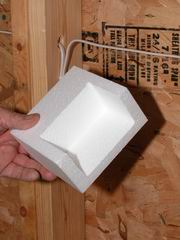 2
The preformed "Energy Block"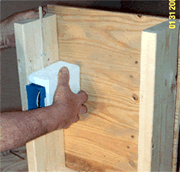 3
Press Energy Block in place against wire, it will leave a small impression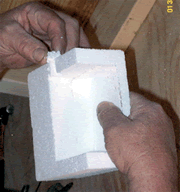 4
Simply pinch out a small piece of foam in this area with fingers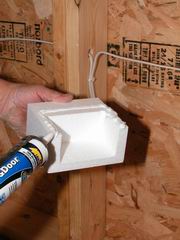 5
Place a bead of latex caulk on stud side of Energy Block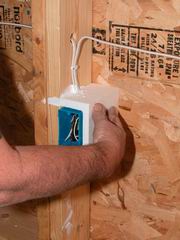 6
Press Energy Block into place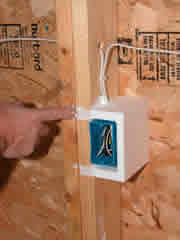 7
Smooth caulk around wires to complete the seal. You are now ready to apply the insulation as usual, except that you don't have to spend extra time insuring the insulation gets behind the electrical box, because the Energy Block has provided insulation and sealing on all four sides. The Energy Block is firmly held in place by contact with the OSB and stud, even before the caulking has dried. When the electrician trims out the box the seal around the wires can not be easily broken, thereby keeping the box airtight.
Special Sizes & Applications
Energy Blocks are now available in three sizes to cover single electrical boxes, a multiple size block that is large enough to cover a 4-gang box, which can be quickly cut to fit 2 or 3-gang boxes, plus a specially contoured block for ceiling fixtures to eliminate air infiltration to the attic.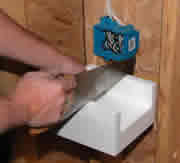 E
B
M
The EBM for Multiple Box Applications
Simply line up against stud and cut at edge of multiple box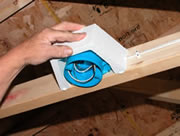 E
B
C
The EBC Energy Block is specially contoured to seal around ceiling boxes quickly and easily.
Cutting the Insulation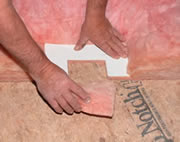 1
Compress the insulation with the template. Cut and remove the center using the template as a guide.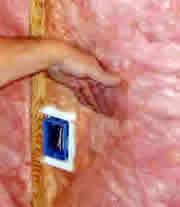 2
Simply push the pre-cut Insulation into the stud cavity for a perfect fit and energy seal around the "Energy Block". The rear of the box is effortlessly and perfectly sealed by the "Energy Block".
Obtaining 100% Seal
As an option, a 100% seal can be obtained by following the simple procedure below. Even without this final step the Energy Block significantly reduces Air Infiltration, Insulation cold spots, and the resulting potential for condensation and mold growth! (A dark caulk was used in this demonstration to clearly show the application, but any latex caulk works fine).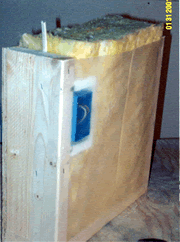 1
Just prior to sheetrocking...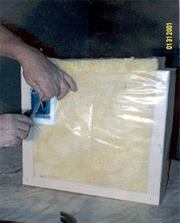 2
Cut poly around electrical box.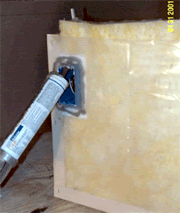 3
Caulking around box.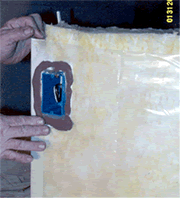 4
Press poly against Energy Block and wall. Installation complete with all six sides sealed!